praise
Praise for The Lost Husband:
"A novel about family, love, and forgiveness . . . heart-rending and heartwarming."
–Kirkus Reviews  
"Sweet, smart, and inspiring."  –Bookfinds
"Center writes endearingly of love and family in her fourth novel, with lessons about loss, gain, standing up for oneself, and accepting that your best is good enough."  –Booklist
"Katherine Center's characters are charming and unforgettable." –Fresh Fiction
"Katherine Center is awesome. I've read every one of her books, and they suck me in like nobody's gull-darn business." –Meg
"I laughed out loud so many times that my husband and children asked what I was reading" –Book Junkie
"I finished it in a day and a half, and whenever I had to put it down I was eager to pick it back up." –Rachel
"I am pretty sure I will think about this story long after I have moved on to other books." –Beth
". . . a delightful, heartwarming read, and I highly recommend it."  -Viki
"I adored this book! Right from the beginning, it drew me in." –Kim
". . . Uplifting without sugar-coating the complexities of life." –Jocelyn
". . . A quick, feel-good read that you can pass on to friends and family knowing that you're spreading around a little bright spot of happy." –Stacey
"This compelling story about moving on and self-discovery was just amazing. "  –Amber
"An original and compusively readable story."  –Meg
"You won't be able to put it down, and, long after you have, it will still be on your mind."  –Tonya
"Beautiful story of reinvention and reclaiming one's life after loss."  –Carrie
"There wasn't a dull spot in this book–just a really great story about finding home and yourself . . .  It's really one of the best women's fiction books I've read."  –Lisa
"A book about love and loss and finding out who you are all over again . . ."  – Rachel
Praise for Get Lucky: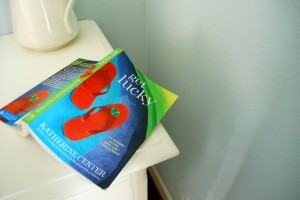 "[A] thoroughly enjoyable girlish romp."
– Library Journal
"Center delivers an original, engaging, and touching novel populated with quirky and lovable characters, and ripe for discovery by readers looking for a cheering read."
- Booklist
"Center's prose is charming and funny."
-The Houston Press
"There are a few authors who are able to find the perfect balance of humor and authenticity when writing fiction for women, and Katherine Center is one of them."
- Books & Movies
"Center has hit a home run with Get Lucky . . . There is no other author out there who does women's fiction better."
- Wendy Robards, book blogger
"A hilarious and touching take on what it means to be a grown-up, Get Lucky asks the quintessential question of whether we can ever go home again. You can't help but root for Sarah right until the end, and will no doubt laugh and cry with her along the way. A must-read."
- Julie Buxbaum, author of The Opposite of Love and After You
"Center is a master of creating modern hero(ine) journeys, and this is one of her best."
- Book Club Classics
"Her characters stay with you long after you read that last page."
- Always With A Book
"Center presents a fresh take on the bond between sisters with this engaging and colorful family drama."
- Cincinnati Public Library
". . .  honest, frank, silly and utterly hilarious."
- Pop Culture Junkie
Praise for The Bright Side of Disaster: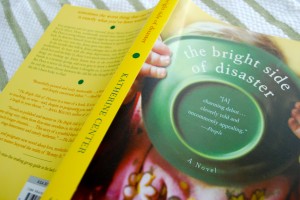 "Charming. . . Cleverly told and uncommonly appealing."
– PEOPLE Magazine
"[A] funny and poignant novel about love, motherhood and men . . . Center elevates the subject matter beyond the realm of 'mommy lit.'"
– The Houston Chronicle
"Authentic."
– USA Today
"Center's writing flows effortlessly, drawing the reader into Jenny's story. . . . Beautifully penned and truly memorable, The Bright Side of Disaster is a heartwarming and deeply emotional debut."
– BookPage*
*Names Katherine one of seven new writers to watch!
". . . Bittersweet and utterly authentic . . . Novels as polished and mature as The Bright Side of Disaster just don't come along very often from first-time novelists or, for that matter, from those with much longer résumés."
– Dallas Morning News
"In her stellar first novel, Center paints an accurate and humorous view of motherhood from the physical changes to lack of sleep and exhaustion, as well as the changes in friendships and feelings about men."
– Booklist
"Center's debut is fast-moving and pleasantly diverting, thanks to sharp dialogue and a narrative that's heavier on the sass than the diaper rash."
– Publishers Weekly
"This is a compulsively great read with a truly likable leading lady."
– Canada's Metro News
Praise for Everyone Is Beautiful: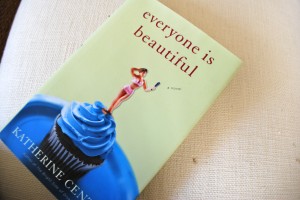 ""[A] breezy read that glows, in part, because its characters bask in the sunny side of life."
– USA Today
"Endearing … unpretentious, silly, and honest – which Center reminds us can be beautiful things, too."
– People Magazine
"…a superbly written novel filled with unique and resonant characters."
– Booklist
"In less deft hands, the horrors of the out-of-control Coates toddlers would resemble bad reality television, but Center's breezy style invites the reader to commiserate, laughing all the way, with Lanie's plight."
– Kirkus Reviews
"What a clear-eyed rendering of the grimy, exhausting, beautiful mess that is early motherhood! I laughed, winced in recognition, and cheered wholeheartedly (sometimes out loud) for Lanie as she struggles to learn how to love everyone enough and still give a part of herself to herself."
– Marisa De Los Santos, author of Love Walked In
"A loving and hilarious portrayal of motherhood and marriage. Katherine Center has a keen eye and a fresh take on the joys and pains of a mother trying to do everything right and to be everything to everybody. You will laugh and relate, weep and rejoice, on Lanie's journey of self-discovery. I highly recommend the trip!"
– Adriana Trigiani, author of Lucia, Lucia
"I felt like I was visiting with my girlfriends. We're conversing, and commiserating, about our lives and loves. Our daily routines and the ruts we've fallen into. The grind of holding a family together and finding time for the 'you and me' in a marriage … This book is engaging, appealing and down to earth."
– The Printed Page