The Review Interview
An interview for Katherine's high school (St. John's School in Houston) newspaper, The Review!
Interview by Gabi Chennisi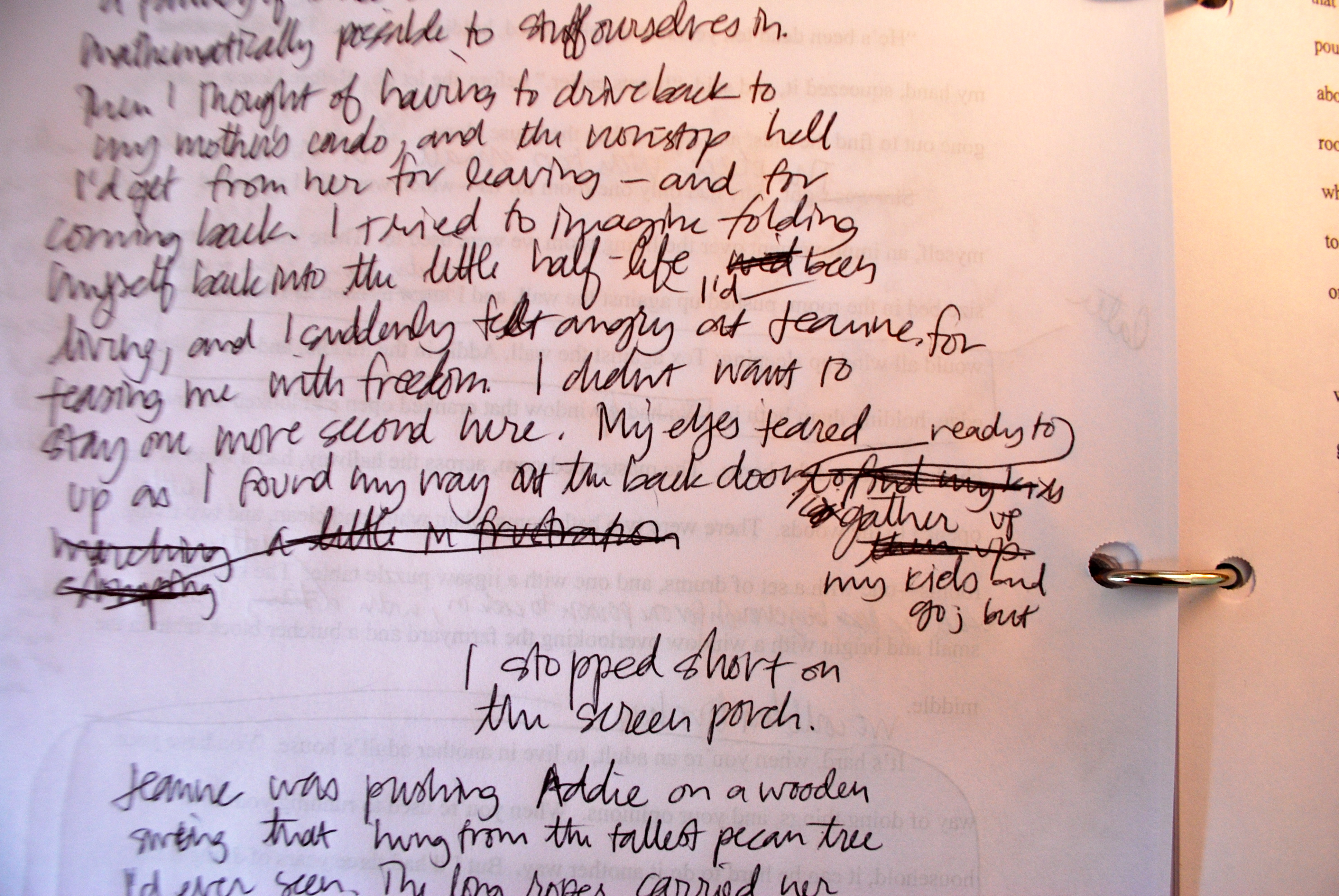 1. Details of the book (Title, publisher, year published, month published, page numbers).
Title:  The Bright Side of Disaster
Publisher:  Ballantine Books/Random House
Year published: 2007 (June 26)
254 pages
2. How would you describe the book? What is the subject matter, genre, etc.?
It's a romantic-comedy!  At least, that's how I think of it.  You could also call it "chick lit" (like a "chick flick," which is a movie for women, "chick literature" is a book for women), or "mom lit."  The heart of it is a love story.  But it's about a woman whose man leaves her on the night before she has a baby, so much of the comedy and craziness and heartbreak of the book comes from her scrambling to figure out how to raise a baby by herself and heal her broken heart.  Girl stuff.  No car chases or spies!
3. What was your inspiration for writing this book?
My older sister dared me to write it!
After I had my daughter, I didn't write anything at all for a long time. I was mostly changing diapers and wiping up applesauce.  And I missed writing.  A lot!  And one day, I was telling my sister about it—complaining that I missed writing—and she said, "You should write a novel about being a mom!  How hard can that be?"
And those were kind of the right words at the right time, and the very next morning, I woke up with this novel's story in my head. I sat down that night to start writing, and I wrote every night for six weeks—sometimes 4 or 5 hours a night—until I had a first draft.  It had been so long since I'd done any writing, that once I started, I couldn't stop.  The story was coming to me sometimes faster than I could type!  I'd be making breakfast in the kitchen and start hearing the characters talk in my head and start jotting down dialogue on the paper napkins!  It was crazy—and very fun.
After I had the first draft, I messed around with it for about a year before it really felt finished.
4. How did the process of publication work? How did it begin, what were the important steps, how did you finally close a publication deal?
Getting published was a great stroke of luck.
I ran into a woman in the park, Vanessa Del Fabbro, who is a published local novelist.  She offered to read the first chapters of my novel, and I emailed them to her.  After she read them, she offered to pass them along to her agent—who responded within an hour of receiving them that she wanted to see the full manuscript.  I emailed her the entire manuscript—and she read it, and loved it, and offered to represent me.
The agent then sent the manuscript out to 8 different editors at publishing houses in New York, and 4 of the 8 were interested.  She got an auction going, with these publishing houses bidding against each other for the rights to the book.  In the end, Random House won—which I was very happy about.  (Ballantine is an imprint of Random House.)
5. Why did you want to be a writer? Have you always wanted to be a writer?
I'm not sure that I ever really wanted to be a writer—I just couldn't seem to stop writing!  It's really not a very sensible job.  Many times, I decided I needed to do something a little more dependable!  But I just kept coming back to writing.  It was like I couldn't not be a writer.
And I've always been that way!  At SJS, in 6th grade, I started keeping a journal in a spiral notebook.  I carried it with me to all my classes and to and from school.  And I wrote in it—anything that came into my head.  I was a little bit shy, and so having the notebook gave me something to do when I didn't quite know what to do…  I kept journals—shelves and shelves of them—for ten years before starting to focus more on fiction.
6. Have you had any previous jobs? Have they inspired you in any way (inspiration or motivation to write)? How so?
I've done a lot of teaching. I taught Freshman English at the University of Houston when I was there getting Master's in Fiction.  And I taught creative writing to little kids (3rd through 5th graders at the Fay School) through a great program called Writers In The Schools.
But I think the jobs that have helped my writing the most have been the jobs that were NOT about writing!  I worked as a cook in a pizza restaurant.  I worked as a Native Plant landscaper.  I worked as a non-profit political organizer.  I worked for a dot-com that went belly-up.
Those non-writing jobs are the ones that are going to show up in stories!  I don't think people really want to read about English teachers—mostly because so many writers are English teachers and have written about it already.  So I'm very glad that I have had lots of other "real world" jobs!
7. Did you enjoy writing in school?
Yes!  I wrote for the Review as a columnist.  I wrote reams of poems and essays.  I memorized lyrics to songs.  I discovered the poet Edward Hirsch at the SJS book fair and fell in love with his poems.  (And then a guy friend of mine invited Edward Hirsch (who lived in Houston then) to my 15th birthday party—and he came!)  I was the editor of Imagination for 2 years at SJS, and we used to run creative writing workshops during activity period (there were no creative writing classes at SJS then).  And I even loved the 5 Paragraph Theme.  I remember Mr. Cullinan's English class so vividly—and having to learn his Comma Rules. I'm sure I hated them at the time, but I sure do know how to wield commas now.  And I especially loved Doc Raulston's English class when I was a Senior. We met in Senior Country and drank coffee and read Camus and felt very collegiate and brilliant.
8. What was your best/worst subject?
English and Art were my best subjects, and math was my worst—by far. Oh, the hours I spent in the Math Lab getting my equations wrong!
9. What is your previous schooling (elementary, middle, high, college)?
I was at SJS from Kindergarten through 12th grade, where I won the Ellen Clayton Garwood Scholarship in Creative Writing.
Then I went to Vassar College, when I won the Vassar College Fiction Prize.
Then I won a fellowship to the University of Houston's Creative Writing Program and got my Master's in fiction there.
10. How long did it take  you to write the book?
Six weeks for the first draft, and then a year of revising.
11. What was your writing process?
Back then, I use to take my 1 1/2 year old daughter to the park and watch her toddle around all day while I thought about the story.  Then we'd come home, I'd put her to bed, and I'd sit down and start writing. I'd usually write at least four hours every night and stay up until midnight or so.

12. How did you feel when you found out your book would be published?
It was really incredible.  I still kind of can't believe it.
13. Do you have any advice for aspiring writers?
Just write as much as you can.  Write all the time about everything.  The more you write, the more you get comfortable with language and develop your writer's voice.
And read stories that you like.  Don't force yourself to read things that don't speak to you because you feel like you ought to read them.  Find writers who hold your attention or grab you in some way and then read everything of theirs you can find.  If you like a movie, read the screenplay.  If you like a song, read the lyrics.  Go to the Inprint Reading Series and hear the brilliant writers that come to town reading their work!  Listen to books on tape.  Find every way you can to infuse your real life with language and the other way around.
And learn how to type without looking.
14. Did you expect so much success to come out of this project, or was it something small that gradually expanded into a much more impressive project?
When I was writing the book, I felt really excited about it.  I thought, "This is really something."  I walked around all day with this excited feeling, like I had this great secret.
But then, before I had really done anything with it or found an agent or anything, I got pregnant again—which was very distracting. And then the baby came early!  Before I knew it, the novel was in a drawer collecting dust.
So at that point, I was kind of thinking nothing would ever happen with it.
But then suddenly, it was sold to Random House.  And then they were calling me to say that people around the publisher's office were just really loving it—and they were making it Ballantine's lead book for the month of  July.  And then they called to say they wanted to fly me to New York for a press cocktail party.  And then they asked me to be on Random House's Speakers' Bureau.  And then they told me that Vanity Fair wanted to throw me a book party in New York…  Good things just seemed to keep happening:  A great review in People magazine.  An amazing review in BookPage.  An essay published in Real Simple.  Even now, just typing this list, it seems like a fairy tale.
15. Was/Is it hard to juggle family and a literary career?
Yes!  I think it's hard to juggle family and ANY kind of career.  Because both things are so critically important and both things require a lot of time and energy and focus.  But I'm trying to do as much of my writing stuff as possible when the kids are asleep!
16. What are your future plans (more books down the line, other projects)?
It's a two-book deal with Random House, so my next novel, also a romantic comedy, will come out next summer (2008).  I am just finishing it up now.  It's a lot like Bright Side in its humor and sensibility—sort of funny and bittersweet.  The paperback version of Bright Side will also come out next summer.  (And Bright Side is being published in the UK this September, as well!)
I'm also a featured author at the SJS Bookfair this fall!  And I'll be speaking at a luncheon in October, for Houston's Intown Chamber of Commerce, called Women in the Driver's Seat.  And lots of other events, too.  I'm also always happy to meet with Houston area book clubs!