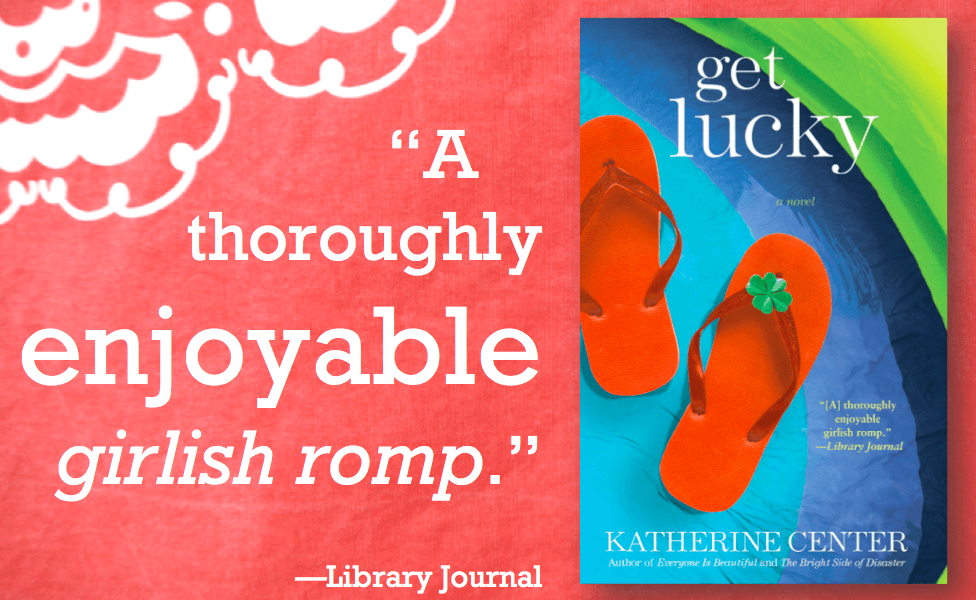 How do you change your luck?  Katherine Center's marvelously entertaining and poignant new novel is about choosing to look for happiness—and maybe getting lucky enough to find it.
Sarah Harper isn't sure if the stupid decisions she sometimes makes are good choices in disguise—or if they're really just stupid. But either way, after forwarding an inappropriate email to her entire company, she suddenly finds herself out of a job.
So she goes home to Houston—and her sister, Mackie—for Thanksgiving. But before Sarah can share her troubles with her sister, she learns that Mackie has some woes of her own: After years of trying, Mackie's given up on having a baby—and plans to sell on eBay the entire nursery she's set up. Which gives Sarah a brilliant idea—an idea that could fix everyone's problems. An idea that gives Sarah the chance to take care of her big sister for once—instead of the other way around.
But nothing worthwhile is ever easy. After a decade away, Sarah is forced to confront one ghost from her past after another: the father she's lost touch with, the memories of her mother, the sweet guy she dumped horribly in high school. Soon everything that matters is on the line—and Sarah can only hope that by changing her life she has changed her luck, too.
CLICK TO BUY at:  IndieBound • Barnes & Noble • Amazon • Target • Walmart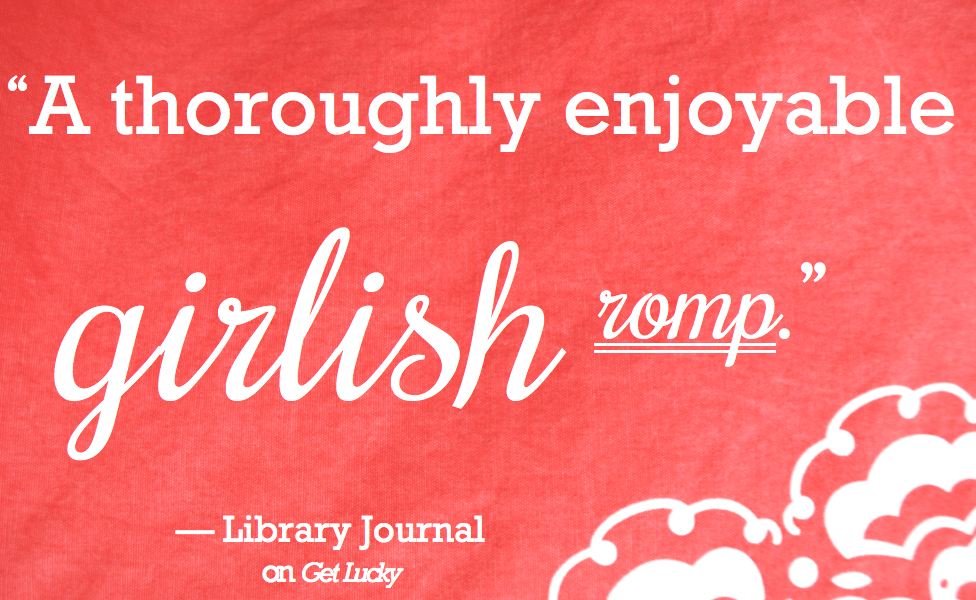 "A hilarious and touching take on what it means to be a grown-up, Get Lucky asks the quintessential question of whether we can ever go home again. You can't help but root for Sarah right until the end, and will no doubt laugh and cry with her along the way.  A must-read."
– Julie Buxbaum, author of The Opposite of Love and After You

"[A] thoroughly enjoyable girlish romp."
– Library Journal
"Center delivers an original, engaging, and touching novel populated with quirky and lovable characters, and ripe for discovery by readers looking for a cheering read."
– Booklist
"A hilarious and touching take on what it means to be a grown-up, Get Lucky asks the quintessential question of whether we can ever go home again. You can't help but root for Sarah right until the end, and will no doubt laugh and cry with her along the way. A must-read."
– Julie Buxbaum, author of The Opposite of Love and After You
"Center's prose is charming and funny."
-The Houston Press
"There are a few authors who are able to find the perfect balance of humor and authenticity when writing fiction for women, and Katherine Center is one of them."
– Books & Movies
"Center has hit a home run with Get Lucky . . . There is no other author out there who does women's fiction better."
– Wendy Robards
"Center is a master of creating modern hero(ine) journeys, and this is one of her best."
– Book Club Classics
"Her characters stay with you long after you read that last page."
– Always With A Book
"Center presents a fresh take on the bond between sisters with this engaging and colorful family drama."
– Cincinnati Public Library
". . .  honest, frank, silly and utterly hilarious."

- Pop Culture Junkie
CLICK TO BUY at:  IndieBound • Barnes & Noble • Amazon • Target • Walmart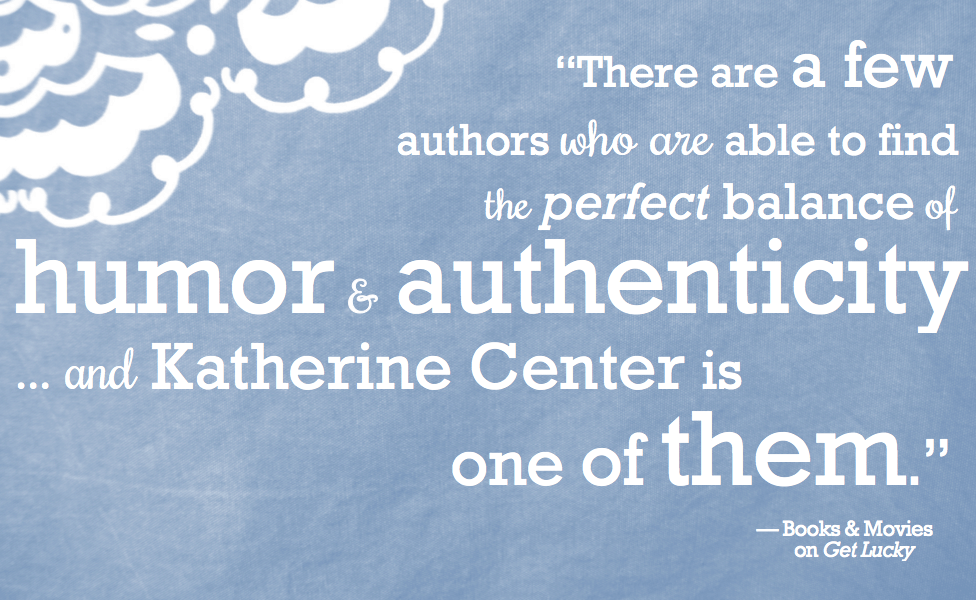 Read an EXCERPT:
Chapter One
First: I got fired. For emailing a website with hundreds of pictures of breasts to every single person in our company. Even the CEO and chairman of the board. Even the summer interns.
Looking back, I may have been ready to leave my job. I'd like to give myself the benefit of the doubt. Sometimes the crazy things I do are actually very sensible. And sometimes, of course, they're just crazy.
I knew the company had just lost a high-profile sexual harassment lawsuit for some very big money. I knew we were now enforcing our zero- tolerance policy. I knew somebody somewhere in the chain of command was looking to make an example. But I didn't think about all that at the time. Here's another thing I didn't think about: I'd just nailed the ad campaign of a lifetime, and I was finally about to get promoted.
In my defense, it wasn't like these people had never seen a breast before. In fact, our whole agency had been awash in them for months. We'd just finished a national campaign for a major bra company, and I'd led the creative team. I'd even come up with the concept-ads directing women to do all sorts of crazy things with their chests while wearing one of these bras.
"Dip 'em," one ad read, while our push-up-clad model leaned into a swimming pool, dunking her boobs in the water. "Scoop 'em," read another, while she pushed her boobs up toward her chin with two enormous ice cream cones. "Lauch 'em," ordered a third, as she arched her back up to the sky. And on and on: "Smack 'em," "Mug 'em," "Wash 'em," "Flush 'em," "Flash 'em," "Love 'em," "Lick 'em," "Leave 'em." I'd spent innumerable hours with those boobs-weekends, nights-working my butt off to turn them into the most famous cleavage in America. Which, by January, they'd become. No small feat.
The model for the campaign was nineteen years old and profoundly anorexic with the most enormous augmented chest you can imagine. I didn't even know her name, actually. We just called her "the Tits." She was a petulant teen who spent all her time between shots wearing earbuds and drinking lattes and then asking people for gum. The question "Do you have any gum?" will forever take me back to that summer. She was a pretty girl, though the freckles, bumpy nose, and squinty eyes would have required retouching. If we'd used her face. In the end, we zoomed in so close that her face didn't even come into the shots. When it came to bras, who needed a face?
That's really how I used to think. I'm not exaggerating at all.
If I sound crass here, that's because I was. If I sound unlikable, that's probably true, too. I was, at this point in my life, after six years in advertising, a person who needed a serious spanking from the universe.
And don't worry. I was about to get it.
I was proud of the ads. They were saturated with color, eye-catching, naughty, and delightful. Everybody was ecstatic, and I was strutting around the office like a diva. The Boob Diva. That was me.
But something was off. Being the Boob Diva wasn't as great as I'd expected. I'd been so underappreciated at that job for so long that when appreciation finally came, it felt false. Maybe I'd built up too many expectations. Maybe all the pep talks I'd given myself about my coworkers being idiots were finally kicking in. Or maybe external validation is always a little disappointing, no matter what.
The books I'd been reading weren't helping, either. I had a whole stack by my bed that chronicled the ways advertising was making us all miserable. Who knows why I kept buying them? It's a chicken-egg question. Did I hate my job because I was reading the books? Or was I reading the books because I hated my job? Either way, I couldn't get around what they had to say: That an economy based on buying stuff needed to keep us all dissatisfied and miserable, needed to keep us focused on what we didn't have instead of what we did, and needed to convince us that things like happiness and peace and beauty could be bought.
Not the greatest watercooler chitchat.
Later, it would occur to me to wonder if advertising in general was screwing over the entire world or if my firm in particular was screwing over just me. I certainly wasn't paid enough. Or recognized enough. Or appreciated. But questions like that are a long time in the making. First, I had to have a little thing we might call a breakdown. Or an epiphany. Neither of which was my intention.
Here's what happened, to the best of my recollection: The night before our big final presentation, my sister happened to send me an email link with the subject line "Boob-a-palooza!" Because I was too wired about the next day to go to bed, I clicked on it. And there, I found miles and miles of mug shots of anonymous breasts belonging to real women. No faces, no bodies, just breasts. Breasts au naturel. Breasts in the wild. Breasts as Mother Nature intended.
My sister just thought it was funny. But I had a different reaction: I could not stop scrolling through. I'd seen a lot of breasts on TV and in movies and on magazine covers in my life. Who hasn't? But I'd never seen anything like these real things. The variety was spellbinding. High ones, low ones, flat ones, full ones. Close together, far apart. Lopsided. Droopy. Walleyed. Googly-eyed. Water balloons. Bags of sand. Jellyfish. Cactuses. Bananas, prunes, and pickles. And this was the eighteen-to-thirty-two-year-old category. These were boobs in their prime.
Under each photo there was a caption written by the owner of the breasts. And each caption read something like this: "These are my breasts. They're pretty droopy (or lopsided or small or dimpled or ugly or embarrassing or pickle-shaped). Wish I could fix them." The comments ranged from vehement hatred to mild distaste, but nobody, absolutely nobody, said: "Here are my boobs. Aren't they great? I find them delightful, and hallelujah!" Nobody.
I was slated to hit the office at nine the next morning in my stilettos to present the "Boob 'em!" campaign to everybody who mattered. But instead of getting to bed early, as I'd planned, I stayed up until three in the morning browsing the photos. Something about the
realness of the pictures on the site underscored the fakeness of the boobs in our ads. Something about the dignity of the real things made our hyped-up things seem ridiculous. The whole campaign suddenly seemed brash and loud and stupid and just plain rude in a way that I couldn't ignore. How had I never thought about this before? We were about to put a picture of a woman's cleavage getting branded on every bus in America, for Pete's sake.
I thought about all the normal women who had taken off their bras for the cameras. I thought about the bravery of stepping forward with your own imperfections to help others feel better about theirs. And all at once I felt ashamed of being part of the problem. I scanned the site until the images and the words bouncing in my brain became a cacophony of women's dissatisfaction and despair, building louder and louder to a crescendo that I could not shush. That is, until four a.m., when I clicked Forward on my sister's email, selected the company-wide distribution list, and hit Send.
I sat back and nodded a little so-there nod.
Then, in the quiet that followed, I realized what I'd done, sat straight up, choked in a little breath of panic, and started looking for a way to unsend that email. Knowing all the while that there wasn't one. That's the truth about emails: You can't take them back.
In effect, I fired myself. Though the guy who actually did the firing- discreetly and several hours after our slam-dunk presentation-was a VP named J.J. who everybody called "Kid Dy-no-mite." Even though he wasn't dynamite at all, just another ad guy at Marston & Minx. A guy I'd started with six years earlier. A guy who'd been promoted over me based on work we'd done together. A guy I'd slept with back in the beginning until he called me a workaholic and broke things off. Now he was married to a girl who wore pink Bermuda shorts when she brought him lunches in a picnic basket at the office. But I guess I was even less dy-no-mite than he was, because I wasn't married to anyone, nobody ever brought me lunches, and now I was out of a job.
CLICK TO BUY at:  IndieBound • Barnes & Noble • Amazon • Target • Walmart