author interview: keris stainton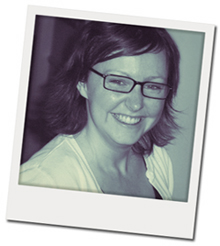 Now for a treat.
Keris Stainton, an e-friend of mine, has
just published her debut novel
.  Keris is an avid reader and used to review books for the site Trashionista.  In fact, she reviewed my first book when it came out.  We stayed in touch in that small-world way that people can on the internet nowadays, and I was so happy when I heard that she got a book deal of her own.  The book is a YA novel called
Della Says OMG
, and folks are saying great things about it!
It is a real pleasure to share Keris's good news and help spread the word about this fun, feisty, authentic new author.
Here's an interview with Keris!

k.c. • What was it that turned you into a writer?
KS: Being a reader, I think. I've always been a big reader and I've always had an overactive imagination. When I was a child, I can remember really yearning to live inside my favourite books. I did quite a lot of yearning in general, so I used to write about the things I wanted but couldn't have. I still do that now, although these days it's things like living in New York rather than, say, George Michael falling in love with me.
• You are a big reader.  What are your 3 favorite books, and why?
Bryce Courtenay's The Power of One completely astonished me when I read it a few years ago. I became so involved with the characters that I dreamed about them and I was bereft when I finished reading – I remember lying on the bed, literally sobbing! I also adore the Tales of the City series by Armistead Maupin (sorry to cheat and pick a whole series) – again for the characters. When a new book came out a couple of years ago, it really was like catching up with old friends. And Catherine Newman's Waiting for Birdy is such a brave and brilliant, funny and moving book. I read it during early pregnancy with my second son (when I was still not entirely convinced I wanted another child!) and then read it twice more during the pregnancy. I know it's a book I'll re-read for the rest of my life.
• How does it feel to have your first book come out?
Surreal. I still don't quite believe it – mainly because I'm yet to see it in a bookshop. It's all incredibly exciting, but with an undercurrent of worry about how it will be received.
• If you had to describe it in one sentence, what would you say?
Can I cheat and use someone else's description? The amazing YA author Susie Day (My Invisible Boyfriend) said, "
Confidence-boosty sex-positive first love goodness" which pretty much sums it up!
• What's your favorite line or passage in the book?
"Listen, what does Dr Phil say?" Maddy loves Dr Phil, the psychologist guy she's always watching on Living or somewhere. "If you always do what you've always done, you'll always get what you've always got."
"Pardon?"
"It's the definition of insanity," she says.
"I thought that was talking to yourself."
"No, that's the first sign of madness. Anyway, what have you always done, where Dan's concerned."
"Um. Nothing?"
"Exactly. And where's that got you?"
"Nowhere."
"So what do you need to do?"
"I don't know."
"Something! And that will get you somewhere!"
"And they gave him his own show for that?"
Susie Day (again!) said "This could be the 'Forever' of the 21st Century" which made me run around the house in a kind of joyful panic!

• What do you hope people take away after reading it?
I would really love it if it helped girls know that whatever they're thinking or feeling about themselves, their bodies, their sexuality, someone else is thinking or feeling the same way. It's so hard to know what's normal and what's not when you're a teen and you can spend such a lot of time worrying about it and, often, feeling ashamed. I know I did.

• Do you feel women authors have something special to say to women readers?
Absolutely. A couple of weeks ago, I saw the author William Nicholson discussing his new novel for teenagers (Rich & Mad). Nicholson also wrote the screenplay for Shadowlands and he said there's a quote that's always credited to CS Lewis, but that was actually written by Nicholson and that is "We read to know we are not alone." I thought that pretty much summed it up! A couple of years ago, I was involved in an online argument – sorry, discussion – about chick lit and one of its detractors said it was "narcissistic" to want to read about characters who are like you. I just think that's absolute nonsense. I love reading a book and thinking, "Wow. I thought that was just me…" It's incredibly comforting.
• Having a book come out is exhilarating–and also kinda stressful.  What do you do to relax?
Ha. Yes, I keep thinking I need to take a day off, but there's just so much to do. Luckily, I've got two gorgeous little boys and playing with them is relaxing (most of the time!). I've also just bought myself a 30 Rock DVD box set so I can just veg out in front of that.
• What's next?
I've got another book out this time next year so I need to get on with that. I'm slowly arriving at the point where not writing it is more stressful than just getting on and writing it – also I've got a deadline – so I'll be working on that through the summer.